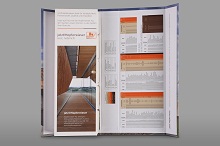 Clap card
Used to present a complete product line in a clear form. According to the number of decorations the number of the cards in the system can be arbitrarily decreased or increased. You can use several free spaces to print any holder with cd's. It is mainly used in design offices as a tool that contains complete information about individual products. Standard sheet sizes: 58 x 60, 60 x 90, 120 x 85, 125 x 80, 100 x 75 mm.
Hanging swatch, binding swatch
Purpose: of the complete scale of decors in hight quality
Special features:100 pieces of decor pasted on each card to the concertina book shape.